beeskin Thermo-bottle
Regular price

€24,90

Sale price

€9,90
We always have it with us: at school, at work, during our workout, on excursions and even on holiday (like recently on our winter holiday). A thermos that really keeps its promise: cold drinks stay cold for 24 hours, hot drinks stay hot for 12 hours (we really want to emphasise here that hot drinks are still hot and not lukewarm even after several hours). The fact that the heat lasts for a long time is also very practical, for example, if you want to mix baby food on the go. 
Since plastic has no place on food, the beeskin thermos is made of double-walled, high-quality stainless steel. The special screw cap (BPA free) creates a vacuum inside, making the beeskin thermos leak-proof. 
And because drinks or even soups are always empty too quickly, we decided on a 750ml capacity. Nevertheless, the beeskin thermos is light and therefore an ideal companion for every day. Our favourite contents in winter? Mulled wine. And in summer? Definitely iced tea or even a white wine.
The large opening makes cleaning very easy and uncomplicated. Our beeskin thermos bottle is extremely robust and won't be deterred by wild adventures. 
Available in five colours:
Stainless steel - the ascetic one.
Unadorned, robust, down-to-earth. Type: Adventurer
You don't attach much importance to frills and you like to be out and about. Put on your backpack and head for the mountains or the garden. Your bottle contains water or perhaps an apple spritzer to replace the fluids you have sweated out after all that fresh air. 
Rose gold - the self-confident one.
Noble, luxurious, sophisticated. Type: Diva
Good is just good enough for you. In your bottle you will have champagne, white wine or perhaps even simple mineral water, preferably from France or Italy. Jetset is your life. On the way to the next party, you enjoy a sip or two. Then it's time to put on your sunglasses and enjoy. 
Red - the positive.
Cheerful, friendly, energising. Type: Yogi
There is always something good. You are relaxed and enjoy the "warming" things in life. In your bottle there is a tea that is warm to drink - certainly with liquorice and maybe even a hint of cinnamon.  
Blue - the strong one.
Calming, serene, balanced. Type: Optimist
Nothing throws you off track that quickly. Whether on the playground or in your bowling team: You are the rock everyone can rely on. Malt beer, juice spritzer or water - whatever is in your bottle is delicious. 
Black - the cool one.
Purist, simple and striking. Type: Manager
You know what you want and go your own way with determination. You are no stranger to making decisions and taking responsibility. You are used to success. You rehydrate yourself with water or grapefruit spritzer after a hard workout. After a hard day, you might enjoy a cold Moscow Mule on the terrace. 
Product Information:
| | |
| --- | --- |
| Material: | high quality stainless steel |
| Capacity: | 750ml |
| Diameter: | 8.0 cm |
| Weight: | 434 g |
| Height with Lid: | 31.3 cm |
| Drinking opening: | 3.4 cm |
Special feature: 

Keeps hot for 12 hours, cold for 24 hours

Vacuum closure

Leak-proof

Highest Quality made in Berlin

Our beeskin beeswax wraps are GOTS organic certified by Ecocert and tested for impurities and paraffins. Our company is certified ISO9001:2015 for quality management. We produce in Berlin and use as many European raw materials as possible.

Read more about our beeswax wraps here.
1 year warrantee and easy care

You can rinse and reuse your beeskin beeswax wraps for at least 1 year. Guaranteed. At the end of their life, beeskins are simply disposed of in the household compost or used as barbecue lighters. More on how to care for your beeskin here.
Share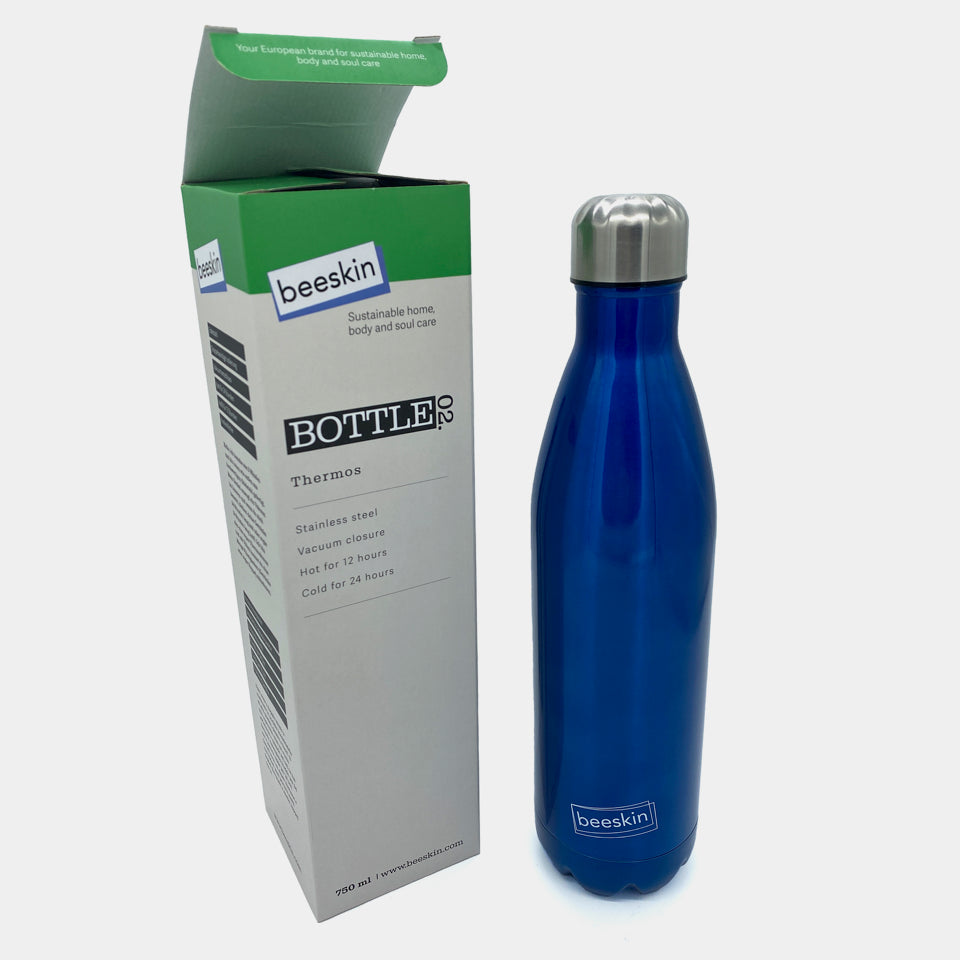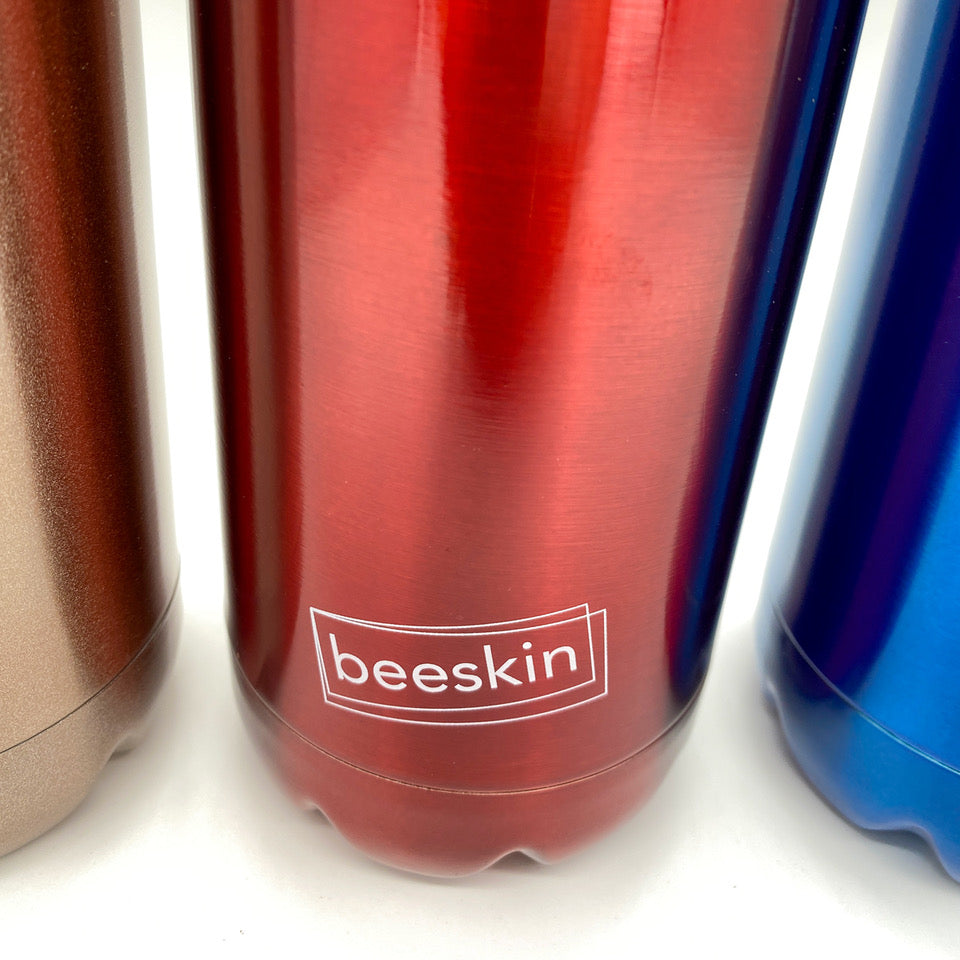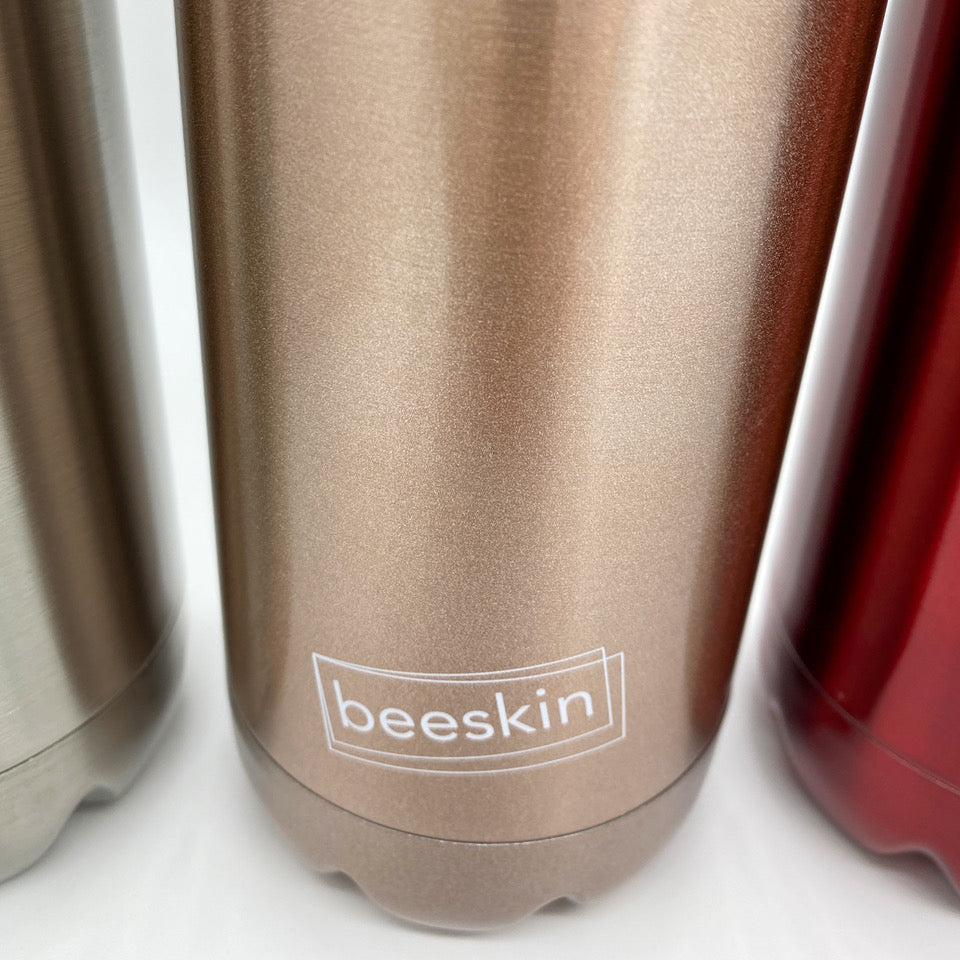 Awards and Certifications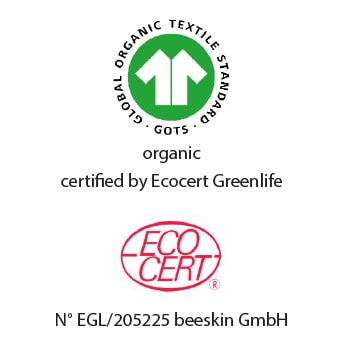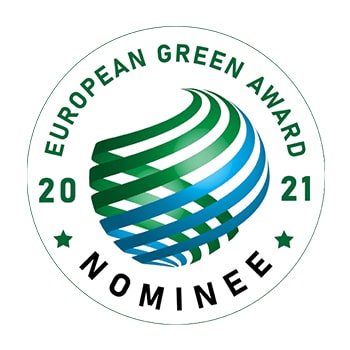 FAQs
How long will the beeskins last?

We give you 1-Year guarantee on all of your beeskin beeswax wraps. get in touch with us if you have any problems: yes, I need help please.
Are there foods I can't use beeskin for?

For hygienic reasons you should not store raw fish and raw meat in beeskin. Place those into an extra bowl and cover the bowl instead. Pineapple has an enzyme which causes the coating to dissolve. Prolonged contact with very oily food may damage the wax and resin coating.
How do I clean beeskin?

Run your beeskin beeswax wrap under cold water only, and run your fingers over your wrap to remove any excess, as if rinsing a plate. Don't wash or rub your wrap vigorously with a rough sponge or brush. You may use the soft side of a sponge, gently, and we recommend you use an eco-friendly dish soap with no "alcohol" within the first 4 ingredients. Alcohol will dissolve the beeswax and tree resin. After having cleaned your beeskin, pat it dry with a kitchen towel or let it air-dry. Don't set your beeskin beeswax on a radiator since your wrap is not particularly fond of heat.
Can I use beeskin to freeze food?

Your beeskin beeswax can definitely be put in the fridge and of course in the freezer compartment. Your food will be protected but can still breathe. We recommend you check on your food after 4 weeks to make sure it does not dry out. We like to freeze leftover pizza or half a cake in beeskin. Even bread slices are great to be frozen. Take them out and pace them directly into the toaster or oven.
What happens after its lifetime?

After its lifetime beeskin can be discarded on the compost. It will dissolve completely. Alternatively you can use beeskin as a natural and healthy fire starter for fireplace or barbecue.