Halloween Special
Regular price

€26,10

Sale price

€15,90
Introducing the Spooktacular Halloween Special Box: Unveil the Magic of the Night!
🎃🌙👻
As the crisp autumn air settles in and the leaves turn shades of crimson and gold, it can only mean one thing - Halloween is right around the corner! And what better way to celebrate this spine-tingling, enchanting holiday than with our exclusive Spooktacular Halloween Special Box?
Unlock the Mystery Inside:
1x roll in spooky Halloween design
1x Bag S in spooky Halloween design
1x double-walled glass, 250ml
1x tea infuser
But beware! Our Spooktacular Halloween Special Box is available in limited quantities, and once they're gone, they're gone forever. So don't miss out on the magic of the night - order yours today and prepare to be enchanted by the mysteries it holds within. Happy Halloween!

🎃🌙👻
 The original value of goods is 26,10€
Highest Quality made in Berlin

Our beeskin beeswax wraps are GOTS organic certified by Ecocert and tested for impurities and paraffins. Our company is certified ISO9001:2015 for quality management. We produce in Berlin and use as many European raw materials as possible.

Read more about our beeswax wraps here.
1 year warrantee and easy care

You can rinse and reuse your beeskin beeswax wraps for at least 1 year. Guaranteed. At the end of their life, beeskins are simply disposed of in the household compost or used as barbecue lighters. More on how to care for your beeskin here.
Hurry, only 13 items left in stock!
Share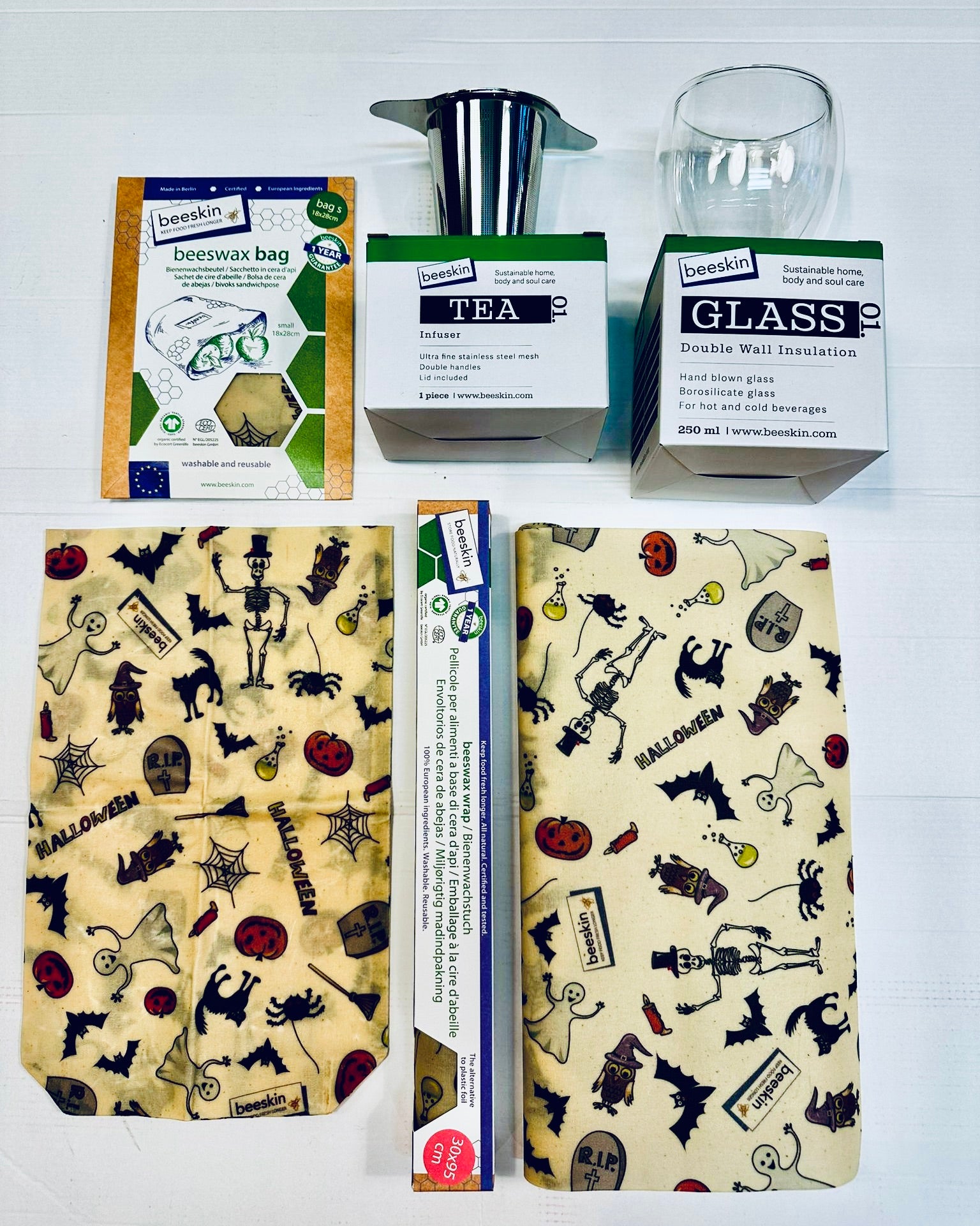 Awards and Certifications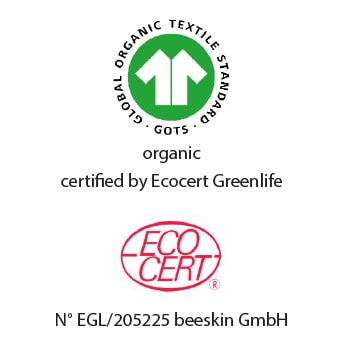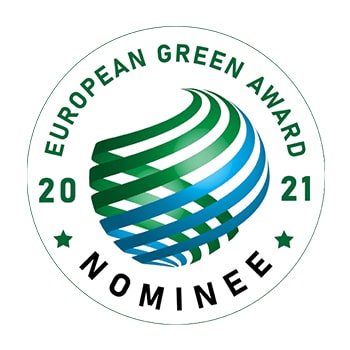 FAQs
How long will the beeskins last?

We give you 1-Year guarantee on all of your beeskin beeswax wraps. get in touch with us if you have any problems: yes, I need help please.
Are there foods I can't use beeskin for?

For hygienic reasons you should not store raw fish and raw meat in beeskin. Place those into an extra bowl and cover the bowl instead. Pineapple has an enzyme which causes the coating to dissolve. Prolonged contact with very oily food may damage the wax and resin coating.
How do I clean beeskin?

Run your beeskin beeswax wrap under cold water only, and run your fingers over your wrap to remove any excess, as if rinsing a plate. Don't wash or rub your wrap vigorously with a rough sponge or brush. You may use the soft side of a sponge, gently, and we recommend you use an eco-friendly dish soap with no "alcohol" within the first 4 ingredients. Alcohol will dissolve the beeswax and tree resin. After having cleaned your beeskin, pat it dry with a kitchen towel or let it air-dry. Don't set your beeskin beeswax on a radiator since your wrap is not particularly fond of heat.
Can I use beeskin to freeze food?

Your beeskin beeswax can definitely be put in the fridge and of course in the freezer compartment. Your food will be protected but can still breathe. We recommend you check on your food after 4 weeks to make sure it does not dry out. We like to freeze leftover pizza or half a cake in beeskin. Even bread slices are great to be frozen. Take them out and pace them directly into the toaster or oven.
What happens after its lifetime?

After its lifetime beeskin can be discarded on the compost. It will dissolve completely. Alternatively you can use beeskin as a natural and healthy fire starter for fireplace or barbecue.